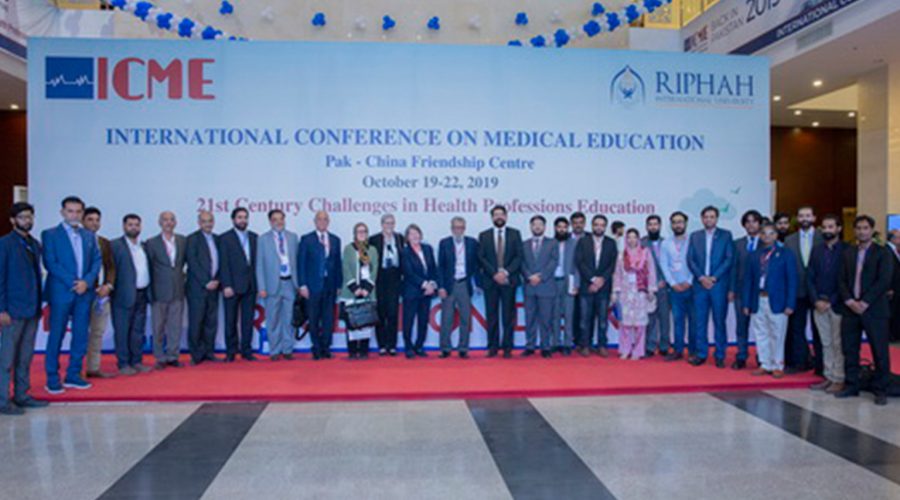 Sixth ICME 2019
Sixth International Conference on Medical Education was organized from 19-22 October 2019, in Islamabad Pakistan. It was second occasion, after the first ICME in 2009, that the conference was organized in Islamabad after ten years. By now ICME has increased its scope and includes other branches of Health Profession (Dental, Nursing, Rehabilitation Medicine and Pharmacy) as well. Because of this, the theme of the conference had been given  "21st Century Challenges in Health Professions Education".
The conference was organized in academic partnership with Army Medical College, Fazaia Medical College, Foundation University, Rawalpindi Medical University, Tameer-i-Millat University, University of Lahore, Dow Medical University and Jinnah Sind Medical University. It was supported by Association for Medical Education in Europe (AMEE), Society of Medical Educationists (Pakistan), International Federation of Medical Students' Association and Royal College of Physicians and Surgeons of Edinburgh. The conference was patronized by Higher Education Commission of Pakistan and Pakistan Science Foundation.
The main objectives of the 6th conference included:
1. To discuss internal and external challenges confronted by Health Profession Education both nationally and internationally.
2. Sharing the challenges imposed by societal issues, social accountability, accreditation standards and healthcare reforms.
3. Discussion on standards for medical schools, defined outcomes, inculcation of ethical values, and methods of assessment for 21st Century.
4. Faculty development and promotion of scholarship of teaching to maintain excellence in health profession education.
Main topics selected included Students Assessment, Islamic Ethics, Continuing Professional Development,  Interprofessional Education, Patient safety, Professionalism and Integrity, Curriculum Viability, Student Selection, Educational Leadership, Empowering Learners, Accreditation Standards, Artificial Intelligence, Simulation and Educational Research.
The event comprised two days of Pre-Conference courses and workshops and two days of main conference. Pre-Conference Courses and Workshops were conducted at three campuses of Riphah International University and campuses of partners institutions on 19th and 20th October while main conference was held at Pak-China Friendship Center on 21st and 22nd October. In all four courses and thirty PCW were conducted. Courses were conducted on Educational Leadership, Research in Health Profession Education, Developing an Online Course and Understanding Entrustable Professional Activities. PCWs covered a wide range of hot topics in Health Profession Education and included subjects like Mentoring, Artificial Intelligence, Simulated Patients and Time Management. There were total of 39 International and National Experts who conducted these courses and workshops. International speakers came from USA, UK, Netherlands, UAE, KSA, Iran and Vietnam whereas national speakers came from almost all parts of Pakistan.
Total of 267 abstracts were received from national and international presenters. Of these 242 were accepted while 213 registered. Abstracts were divided into 19 sessions of oral presentations, 5 sessions of poster presentations and 10 free conference workshops. In addition, there were two Plenaries, five Symposia and five sessions of What the Experts say? sessions on various topics of current interest.
Plenaries were delivered by Prof Olle ten Cate from Netherland, Prof Brownel Anderson from USA, Prof Hossam Hamdi from UAE and Prof Ronald Harden. Prof Ronald Harden, who was not allowed to travel by his doctors sent his recorded plenary that was run as first plenary lecture.
Sixth ICME will be held from 19-22 October 2019 at Pak-China Centre, Islamabad, Pakistan.
First ICME 2009, organized by Riphah International University, was held in Islamabad.
Second ICME 2010 was held in Abu Dhabi
Third ICME 2013 was held in Mauritius.
Fourth ICME 2015 was held in Istanbul, Turkey.
Fifth ICME was held in Abu Dhabi
Sixth ICME was held in Islamabad.